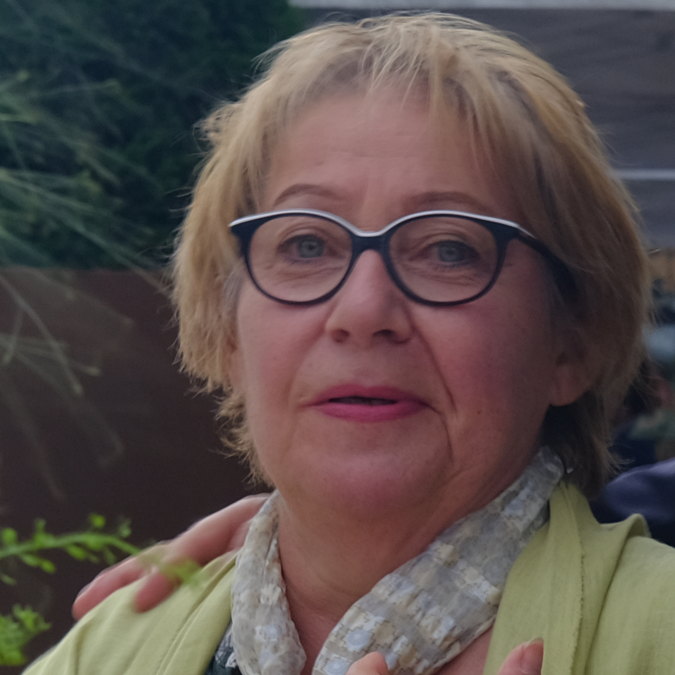 Françoise
A market with a focus on local products and crafts!
For you, Epinal Tourism is :

Entertainment for a busy summer

Your favourite local dish :

The blueberry juice

Your favourite local tourist site :

The Basilica of Saint-Maurice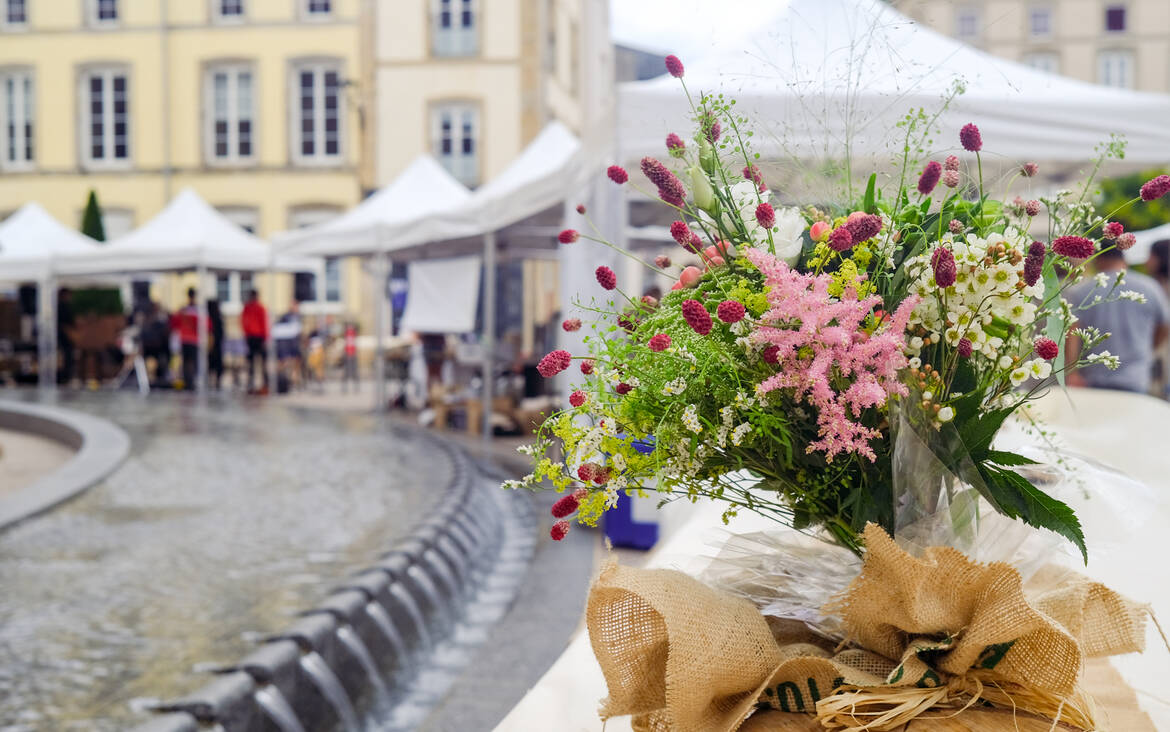 A setting conducive to relaxation
For all self-respecting epicureans, local markets and craft markets are a must during our summer holidays to taste local specialities and bring back souvenirs for our loved ones.
In Epinal, these markets are called "Les Merveilleuses Estivales": an evocative name which promises us to spend wonderful moments with our grandchildren. Every Thursday evening from 7 July to 18 August from 4pm to 8.30pm, the Place de l'Atre and Place Edmond Henry are transformed into an open-air market.
These newly renovated squares located at the foot of the majestic Saint-Maurice Basilica in Epinal are ideal for long summer evenings spent strolling around. The fountains that line the building provide a place to cool off: the children have a great time while we contemplate the architecture of the surrounding buildings that make up the city's historic centre.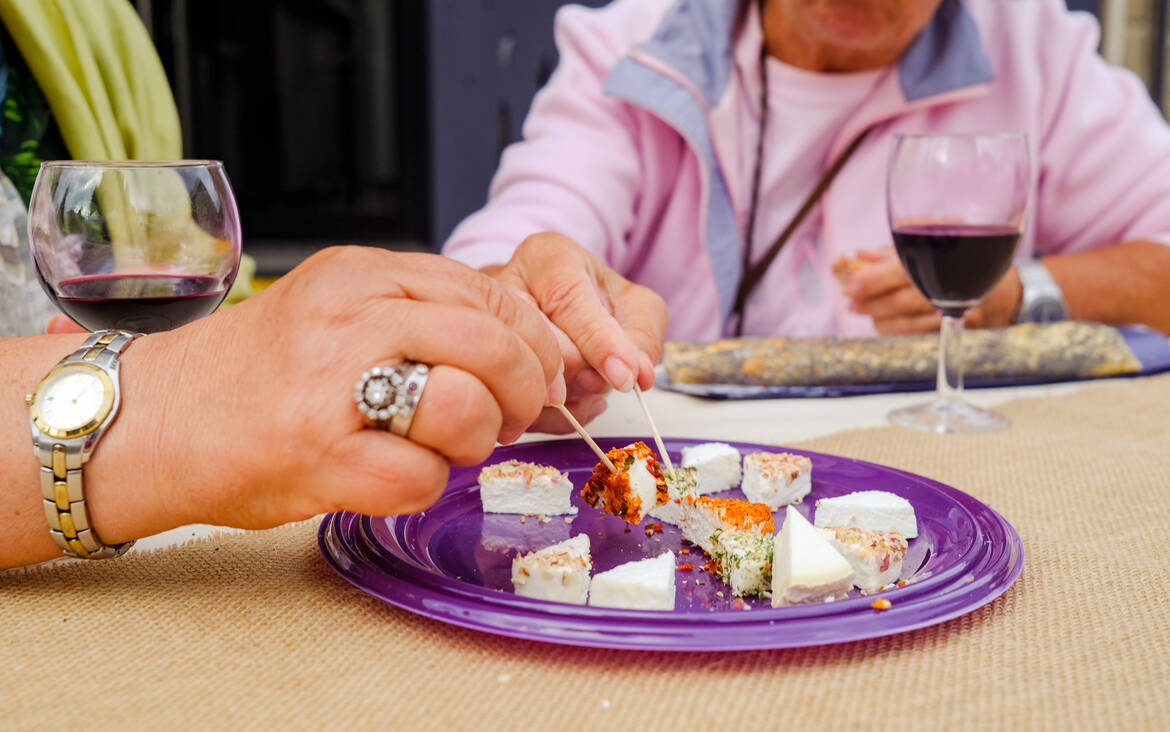 Gourmet break in the countryside
Pretty white tents form the aisles of this event where local producers and art craftsmen rub shoulders in joy and good humour. Bison sausage, blueberry juice, mirabelle jam, beer, cheese... We are spoilt for choice.
Our senses are awakened by the smells and colours of the stalls. We like to be tempted by a cheese board accompanied by a glass of Vosges blue wine, while the children enjoy a small pot of home-made ice cream. We sit at one of the many tables set up in the heart of the market, decorated with care: beige tablecloth, flower arrangement, jute cloths, wooden logs as centrepieces... The promise of the "country picnic" is kept!
Nearby, a guitarist and singer transports us on pop-jazz notes and we are all surprised to sing along to a cover of Gainsbourg which puts everyone in agreement.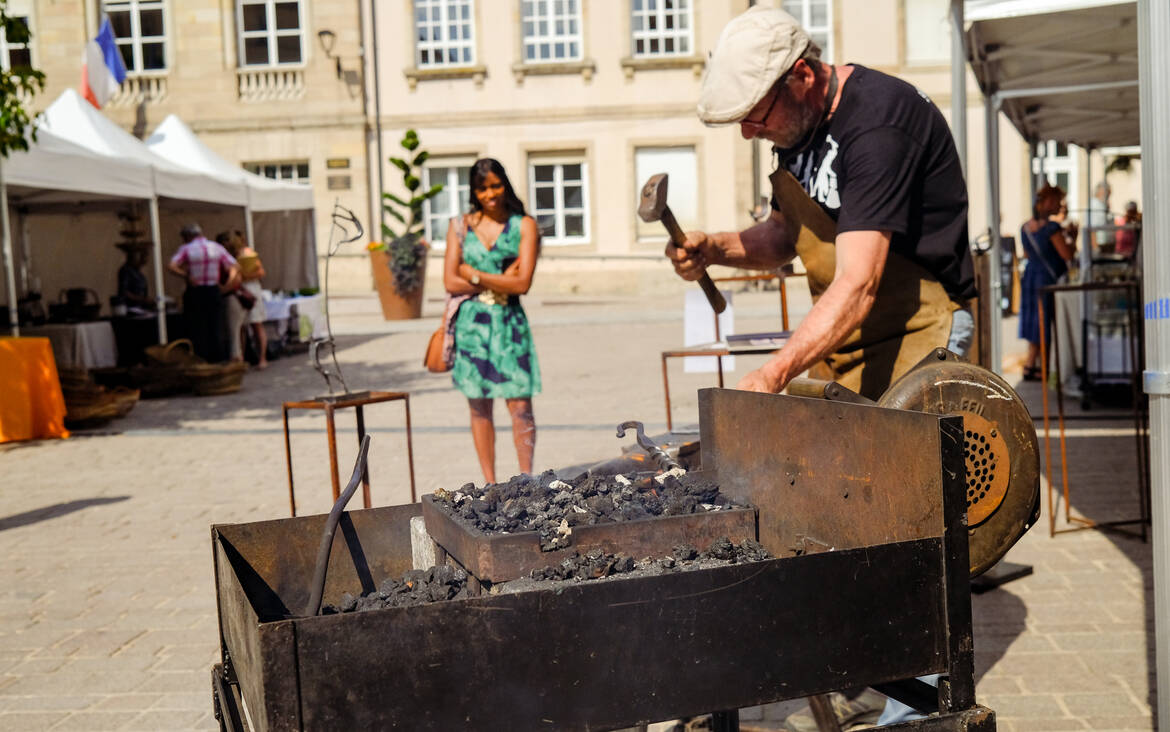 Carefully selected craftsmen
We continue our journey through the stalls and marvel at the work of a blacksmith who forges a barbecue fork before our astonished eyes. Further on, we stop for a few minutes to watch a basket-maker making a basket with an unusual shape. Our grandson even got to try his hand at stone cutting!
This Thursday is dedicated to craftsmen whose trades revolve around heritage, restoration and gardens. Each Thursday is dedicated to a different theme. Next week, it will be the turn of the fashion and textile professions to be honoured. We will be back with pleasure for our little girl who spotted the presence of Pauline Cavret, better known under the name of "Atelier Jiro", a bootmaker & craftswoman who makes shoes and leather jewellery by hand in the Vosges and from whom she hopes to find a unique model.
After this gustatory and sensory journey, we decide to extend the experience by sitting down on one of the many terraces of the nearby restaurants to have a good meal.
Musical, festive et friendly atmosphere
Passionate producers & craftmen
Détails de la fiche (1 fiche uniquement)
Nom de la fiche :
LES MERVEILLEUSES ESTIVALES [sheet--3672205]
0